Page
Reviewing Assignments "Offline"
Use these instructions to download all the files your students turned in for a given assignment, so you can read through their work in one big batch. If you add notes to the files as you're reading, it's easy to re-bundle the files and distribute the feedback to your students through Moodle.
Find the assignment in your course outline and click on it.
Click View All Submissions.

In the top corner, open the Grading Report Menu and choose "Export all submissions". A spreadsheet containing all the student work for this assignment will automatically start downloading.

On your computer, double-click the zip file to unzip it and view the contents.


By default, the Download Submissions in Folders option is activated - so you'll see an individual folder for each student within the main folder, containing just that student's work. If you'd prefer not needing to click into each student's folder, you can change this option by by scrolling down before you download the file, looking under Options, and unchecking Download Submissions in Folders.



(Optional) If you want to write feedback for your students, but prefer not to annotate their work directly, you can leave text comments for them by downloading and filling out a grading worksheet. If you'd like to do so, choose "Download grading worksheet" from the Grading Action Menu.




A CSV spreadsheet file will be automatically downloaded. You can open it in a program like Excel. Add any comments you have for students in the Feedback Comments column. Ignore the other columns, but don't delete or change the information in them.

Review the submissions from your students. Add comments or edits to their submission files if desired.
Save and close all the files. Make sure not to re-name anything!
Re-zip the commented files for upload back to Moodle.

Select all the files.

Mac: Right click > Compress (or File Menu > Compress.

Windows: Right Click > Send to > Compressed folder.

It doesn't matter what the name of this .zip file is as long as the individual file names are unchanged.

Back in the Moodle assignment review screen, click the Grading Action menu and choose "Upload multiple feedback files in a .zip".

Choose your file or drag it into Moodle, and click "Import Feedback File".
You will see your feedback files appear in the "Feedback files" column in each student's row (you may have to scroll the grid to the right to see them).

(Optional) To upload your comments from a grading worksheet (step 5): click the Grading Action menu and choose "Upload grading worksheet".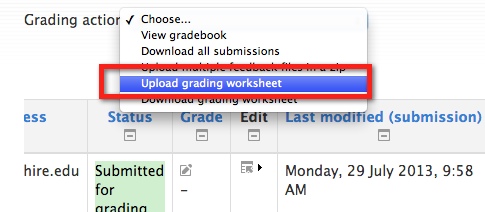 Find and choose the file, or drag it into Moodle, and click "Update grading worksheet".

You may need to check "

Allow updating records that have been modified more recently in Moodle than in the spreadsheet" if you just uploaded feedback files. It won't overwrite the files, it will just allow your comments to be added.

You will see your comments appear in "Feedback comments" columns of each student's row (you may have to scroll the grid to the right to see them).
Last modified: Thursday, September 7, 2023, 3:59 PM